Oh… saka! Arriving from the city of Tokyo, I was awestruck by Osaka's uniqueness. Unlike the modern and conservative Japanese capital — which stands with the grandeur of being a political and cultural hub — the city of Osaka, in contrast, bursts with character. There is a confluence of old and new architecture reflecting the city's ancient past as Japan's old economic hub. Osaka is Japan's second-largest metropolitan area after Tokyo, with a strategic location on the Seto Inland Sea, a busy trading route, as a natural gateway for traders and travellers from all across Asia. If you are planning to visit Osaka soon, make sure to add these to your itinerary.
Go up Osaka Castle
Left: Facade of Osaka Castle; Right: Sights from the viewing deck atop the castle
Take the elevator up to the top floor of Osaka Castle to catch a breathtaking 360-degree bird's-eye view of the city. Walk down each floor to discover the castle's history and get to know Toyotomi Hideyoshi (1537-1598) who planned for building this formidable defence castle in the 16th century. Follow his fascinating story of how the son of a peasant-ashigaru (foot soldier) fought his way to become a powerful feudal lord, warrior, general, samurai, and politician of the Sengoku period.

Visit the Sumiyoshi Taisha Shrine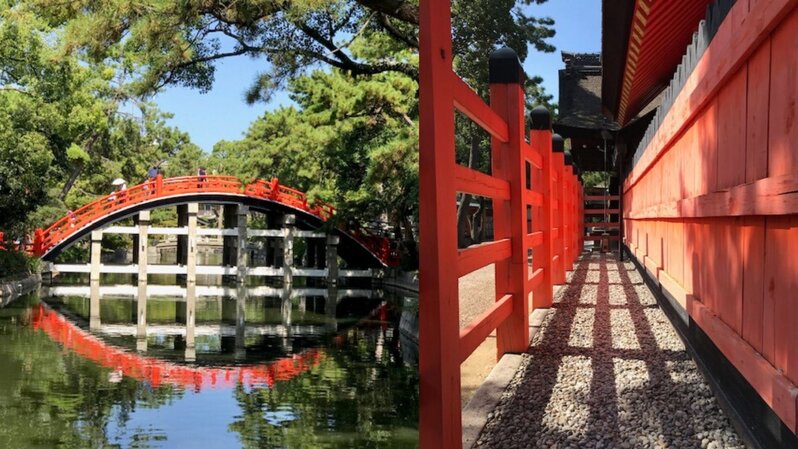 Left: Sorihashi bridge; Right: Sumiyoshi Taisha Shrine
Escape from the mad crowds and enjoy the serenity of Sumiyoshi Taisha Shrine, an easy three-minute stroll from Sumiyoshitaisha Station. Founded in the third century, it is one of Japan's oldest Shinto shrines and is listed as a national treasure. Built before Buddhism was introduced to Japan, it has a unique style of shrine architecture, called Sumiyoshi-zukuri. Enter the shrine via the steeply arched Sorihashi bridge — its high arch supposedly resembles a rainbow that connects the earth with the sky.