Ise Shima of Mie Prefecture, a hidden gem of Japan, has been harvesting treasures of their own for more than a century. Pearls, each painstakingly cultured for years, are the region's most famous export. In fact, the picture-perfect Shima peninsula is the site of the world's first cultured pearl farm. Cultivated in the calmness of the Sea of Japan, Akoya pearls are some of the most coveted ones of all because of their supreme lustre, the main determinant of a good pearl.
Easily accessible from Osaka or Nagoya is the breathtaking beauty of the Shima peninsula, studded with islands and shimmering with the pristine waters of the Sea of Japan
Famed for being rounder and more lustrous than the more common freshwater pearls, the Akoya pearls from Japan are also nature's answer to allure and glamour in its most organic form. After all, the pearl is the only gem that grows in a living organism. Each pearl takes about four to six years to form in an oyster and only 30 per cent of the entire harvest pass the stringent exams to become jewellery.
Each oyster can only produce one Akoya pearl in its lifetime, making it even more precious than freshwater pearls, which are produced 20 to 30 times more per oyster.
Perhaps the most versatile of all, pearl jewellery brings an understated elegance to any outfit in every occasion, whether it is a professional event or an important family celebration. Japanese mothers often gift their daughters pearl jewellery on their 20th birthday or wedding, which is why pearls are often chosen to complement the outfits of Japanese women. It's not just a fashion accessory. It's a family connection, a story.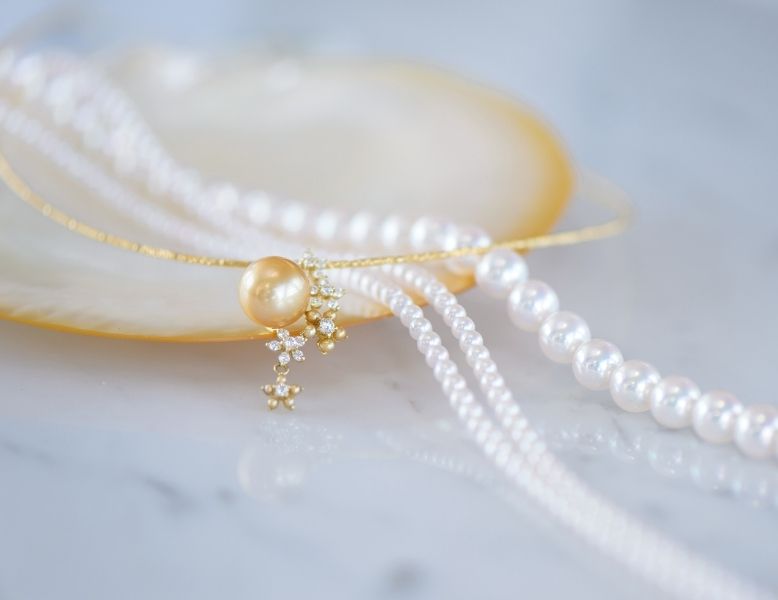 Pearl Falco has a total of 4000 items in its collection, with around 300 pieces here in Singapore. You are bound to find something to your taste.
This is also Pearl Falco's story. Established since 1985, it is a family business which has three branches, with Singapore its only overseas location. It is helmed by the exuberant Maiko Makito, a vibrant Japanese lady who used to trek solo to the Himalayas before the pandemic locked all of us down; she has taken upon herself to rejuvenate the pearl jewellery scene. Since she took over the family business four years ago, Maiko has been tireless in her efforts to share her love and knowledge of the pearl, holding pearl appreciation workshops and even pearl jewellery design competitions.
"The South Sea pearls' reflection is that of silk but the Akoya pearls reflect like a mirror,"enthuses Maiko. Wearable in every occasion, these lustrous little orbs will bring an instant sophistication to your outfit. Splashing out on real pearls is well worth the investment. Real pearls last for decades, especially Akoya pearls, which are higher in density than freshwater pearls and are more impervious to sweat and natural elements.
Akoya Pearl Earring
The whiter the pearls, the more expensive they are. These brilliant Akoya pearls are paired off with golden crescents, a modern design that speaks to the modern woman who fancies timeless elegance with an edge.
Akoya Pearl Ring
Switch the ring around your fingers. The 18K gold free-size ring offers you flexibility while the asymmetrical design of the Akoya pearls is a stylish and inventive take on modern pearl jewellery design.
Akoya Pearl Pendant
Sometimes all you need is one sumptuous pearl. And a lucky horseshoe set in 18K gold. If you are getting a gift for a dear friend or sister, this is a great choice. In fact it is one of Pearl Falco's best-selling items.
Akoya Pearl Necklace
Go all out and splurge on that pearl necklace you know you've always wanted. Look out for uniformity and symmetry, besides colour and lustre. Pearls often carry a sheen of green or pink and the more they match one another, the more valuable the necklace is. This stream of lustrous Akoya pearls is 42cm in length and versatile in all occasions. Pair it with a cardigan for an afternoon tea with the ladies or strap them on with your favourite party dress. This is a necklace for women of all ages.
Ise Shima is not just the birthplace of cultured pearls. It is also the land of Japan's oldest and most revered Shinto shrines, the Ise Grand Shrines. Much like the treasured gems the region produces, it is a legacy of Japanese tradition and dedication, like the brilliant beauty of Ise Shima pearls that will last for generations.