Similar to cherry blossoms, viewing autumn leaves (known as Momijigari) has long been a popular activity in Japan. To see the colours of autumn foliage at their peak, the best period, according to the
Japan Meteorological Agency
's forecast, is from the end of October to early December.
There are plenty of beautiful autumn leaves viewing spots across Japan, from national parks and sacred shrines to gorges tucked away in the mountains. Here are two special ways to admire this stunning autumn spectacle.
A mirrored floor of maple trees at Houtokuji Temple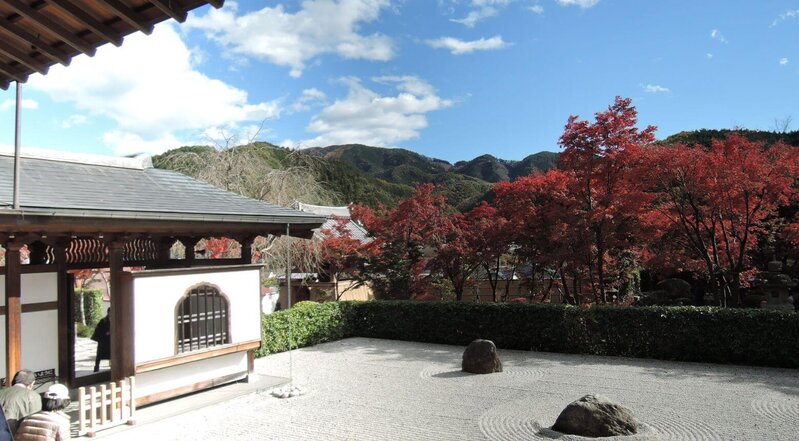 Houtokuji Temple
, a Buddhist Zen temple founded in the Muromachi period (1336 - 1573), is a hidden gem located in the tranquil mountains of
Gunma Prefecture
. It was originally built around 1450 as a fortress to protect the back entrance of Kiryu Castle.
Keeping with the philosophy of Zen, this building is a simple wooden structure without extravagance. The main attraction of this temple is the gorgeous main room that reveals a breathtaking view of the Japanese maple trees in the surrounding gardens.
Every year in autumn, more than 100 maple trees in the shrine grounds transform to a vivid yellow and red. This beautiful display is reflected onto its shiny polished floor, creating a remarkable visual effect. Away from the premises of Houtokuji temple, you can also see the vibrant autumn leaves of nearby Mount Narukami, one of the 100 famous mountains in the Kanto region.
During the peak of the fall season, Houtokuji's exclusive main hall opens to the public for a special paid viewing exhibition. There is also a light-up night event happening in November, where the serene temple grounds will be illuminated for a truly surreal experience.
While you are there, enjoy a languid walk and go on a search for the many Jizo statues scattered within the temple grounds. Jizo statues are said to be guardian angels whose primary role is to protect children and travellers. At Houtokuji, 50 adorable Jizo statues are waiting to put a smile on your face, each uniquely exuding a calm expression.
Houtokuji floor maple exhibition
Public Viewing:
20 October to 30 November 2023
Opening Hours:
9AM to 4PM
Light-up Event:
11 to 28 November 2023
Opening Hours:
5PM to 8PM
Autumn in Japan is a season to look forward to, with vibrant fall foliage painting the landscape in hues of red and yellow. As the summer heat makes way for cooler temperatures, it is a great time to head outdoors and enjoy the best of what nature has to offer.