For more than a hundred years, the charming Enoshima Electric Railway line (locally abbreviated as Enoden) has been transporting commuters between Fujisawa and Kamakura stations in the coastal region of Kanagawa Prefecture. Chugging along the streets with its signature green and yellow cabin, this endearing electric train line has 15 stops that pass through scenic spots and quaint local neighbourhoods.
When it started in 1902, it was originally meant as a convenient transportation mode to get the locals around the area. The Enoden still runs the same route but its cabins now carry wide-eyed sightseeing tourists as well.
This retro electric train has often appeared in TV drama shows, movies, and anime works. In more recent years, it was made popular by the anime 'Slam Dunk' and is now a sought-after photo-taking location!
There are many places where one can spot the Enoden train, such as within the historic city of Kamukura and along the scenic coastline of Shichirigahama.
Japanese manga or anime fans have to make a stop at Kamakurakokomae Station. Here, there is a photo spot at the railway junction that was featured in the opening of the
Slam Dunk
anime. Even if you are not an anime lover, the nostalgic train passing by the sprawling expanse of Sagami Bay makes for an incredible photo.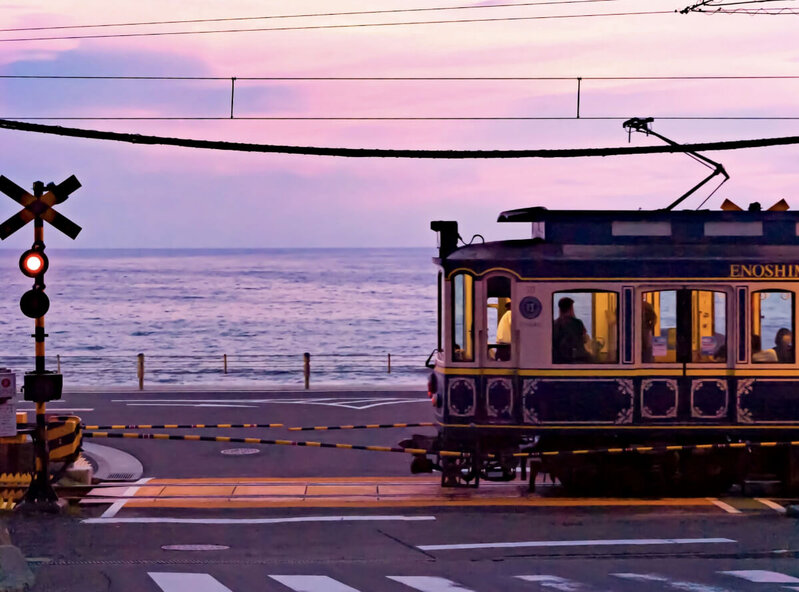 For those who prefer to leisurely watch the train go by, there are some lovely cafes and restaurants in the Kamakura area where you can rest your feet and spend a couple of enjoyable hours.