Fantasy anime worlds may seem unreal, but did you know that some of them are actually inspired by real places found in Japan? Whether you're a super-fan otaku embarking on seichi junrei — which means to look for locations where your favourite anime was set — or just curious to see how similar or different these real-life inspirations are, here's a list of locations that have inspired Japanese anime creators so you can check out when planning your next trip to Japan.
Shiratani Unsui Gorge, Yakushima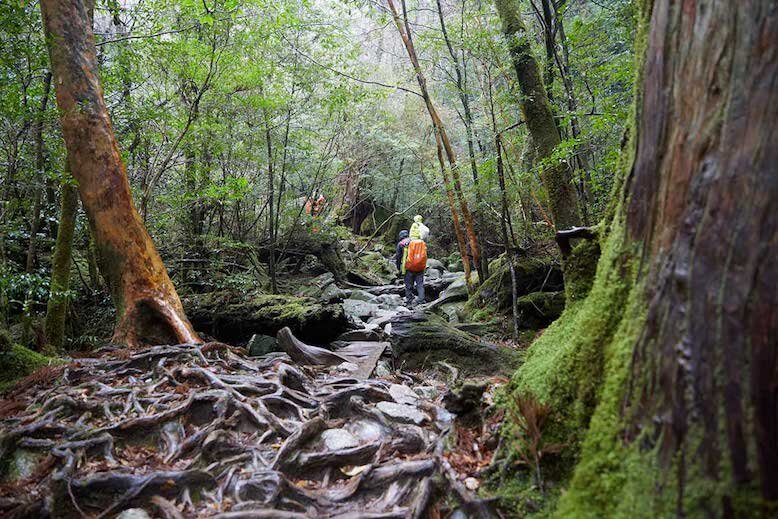 The renowned Hayao Miyazaki anime film Princess Mononoke is set in a lush, mystical-looking green forest that was inspired by the ancient cedar forests known as Yakusugi. There may be no visible forest spirits wandering around this forest like in the anime, but do note that Yakusugi trees are some of Japan's oldest living trees with the oldest tree possibly 2,000-7,000 years old so don't discount the possibility. This forest is located in the Shiratani Unsui Gorge on the remote subtropical island of Yakushima off the southern end of Kyushu and is also one of the wettest places in Japan with almost-daily rainfall.
Studio Ghibli lovers should also check out the nearby Tomonoura along the Seto Inland Sea which inspired Ponyo on the Cliff and is said to have one of the most beautiful views in Japan.

Yotsuya Suga Shrine, Tokyo
Fans of Makoto Shinkai's Your Name will want to pay pilgrimage to one of the most important locations in the anime movie. The nondescript flight of stairs leading up to the Suga Shrine in Tokyo's Shinjuku district is featured in the film's poster and has attracted many fans to visit the real-life location and recreate the scene for themselves. The Suga Shrine is dedicated to the Suga Daijin and Inari Daijin, and people go there to pray for good luck, business prosperity and purification ceremonies to ward off evil.
Other locations near the shrine that were also featured in the film include the pedestrian bridge at the Shinanomachi Station as well as Yotsuya Station. Spoiler alert: The stairs make an appearance in the very last scene of the show, don't watch the video below if you don't want to spoil the surprising ending for yourself.