Ginzan Onsen, whose name translates to silver mountain hot spring because of its history as a silver mine, is one of the most popular onsen towns in Japan and can be found in Tohoku, Yamagata Prefecture.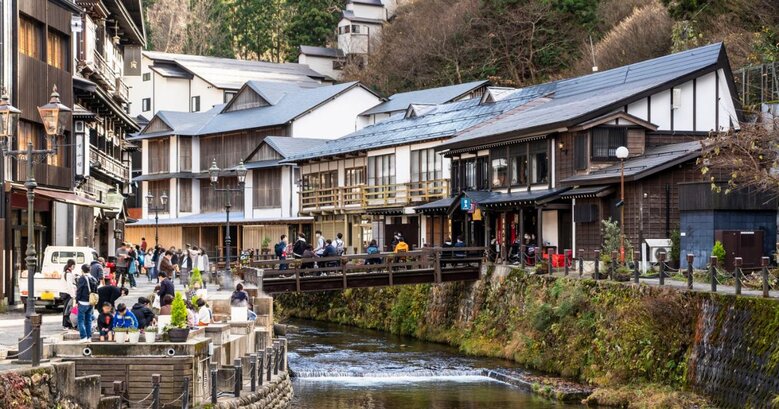 Ginzan Onsen's old-world atmosphere
The town's main architecture reflects the aesthetic of the Taisho period (1912 - 1926) to the early Showa period (1926 - 1989); its traditional feel is perfect for those looking for a more immersive, away-from-the-city experience. Its wooden buildings — some over a hundred years old — are lined beside the Ginzan river, creating a picturesque view.
As soon as the sun sets, the gas-lit street lamps make the town glow with warmth and lend the place a romantic, charming appeal.
But aside from its mesmerising old-world atmosphere, Ginzan Onsen is also home to several must-try food items that hungry onsen-goers simply have to take a bite of. Read on to find out more.
1. Ginzan onsen tofu
Ginzan Onsen tofu made by a shop called
Nogawa Tofuya
is special because the recipe is said to be as old as the many establishments found in the onsen town. It's fairly cheap at less than JPY220 (~SGD2.20) and is meant to be enjoyed in an eat-while-standing setup.
The tofu is freshly made daily and has a light and soft texture and a rich flavour. The shop that sells the tofu opens at 7:30AM, but make sure you line up early because the shop closes as soon as its supply for the day runs out.