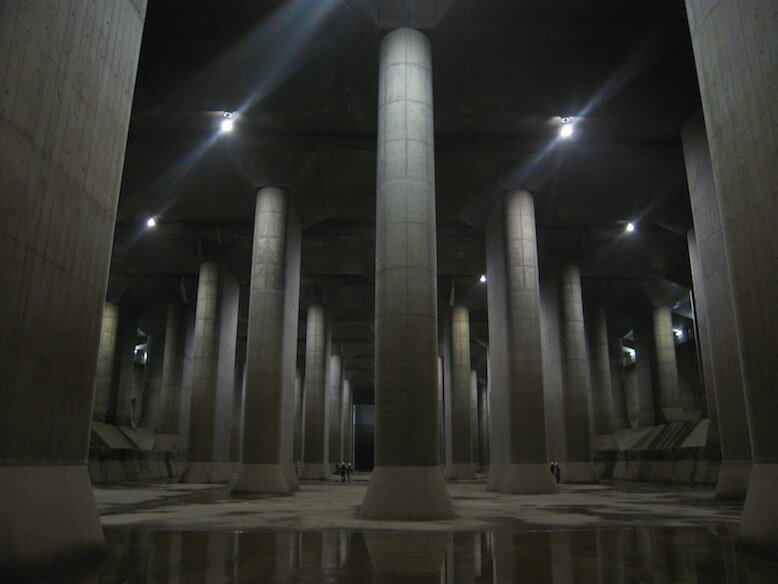 Japan is no stranger to amazing engineering and architectural feats. But the Metropolitan Area Outer Underground Discharge Channel located in Saitama prefecture will blow your mind away. Its official name is a mouthful but this hidden wonder located beneath the city's cavernous labyrinth is also affectionately and befittingly known as the "Underground Temple of Saitama".
As the biggest underground flood tunnel in the world, this impressive facility goes down 50 metres deep, runs 6.5 kilometres long and is held up by 59 massive concrete pillars!
The unsung hero of Greater Tokyo's frequent floods
The low-lying area of the Naka and Ayase river basins accumulate water easily because its topography is shaped like a bowl. Adding on to the problem is rapid urbanisation, which has made it harder for the ground to absorb all that rainwater. These unfortunate circumstances have seen Saitama, Tokyo and neighbouring prefectures within the Greater Tokyo battered by floods for a long time.
From 1992 to 2006, Japanese engineers worked their cutting-edge magic to build a remarkable underground flood control system that can divert excess water during typhoons or heavy rainfall into Edogawa River. When it is not busy diverting water and saving towns from flood damage, the Metropolitan Area Outer Underground Discharge Channel is an inspirational spot for photographers and media creators.
The mysterious underground temple is fodder for inspiration
If you have visited the beautiful ancient Basilica Cistern in Istanbul, Japan's structure is like the larger and futuristic version of it. The vast space and endless rows of majestic pillars that greet visitors resemble those of the Parthenon temple in Greece, thus earning the nickname of Underground Temple. Exuding an otherworldly atmosphere, it is not surprising that this cavernous labyrinth has attracted much attention from filmmakers and photographers.
Sharp-eyed fans of film and music may recognise this mysterious-looking concrete chamber. Yup, this site has appeared as a backdrop for movies, TV programmes and music videos.
Scenes for the underground approach on the Capitol in the blockbuster hit The Hunger Games: Mockingjay – Part 2 (2015) were shot right here in the Metropolitan Area Outer Underground Discharge Channel. It was also the film set of the impactful last scene in the award-winning Japanese movie Fly Me To The Saitama (翔んで埼玉) (2019). Even the promotional video for the theme song of Kamen Rider W Forever: A to Z/The Gaia Memories of Fate (2010), W, used it to simulate a sci-fi effect.
Japanese visual kei symphonic power metal band, Jupiter, released the single Theory of Evolution (2018) with its cinematic music video filmed at this tunnel. Another Japanese rock band, Kankaku Piero, used red spotlights in their music video for Haruka Mirai (2018), creating a powerful mood to suit its song about the future. And there are many more.