At every nook and cranny of Japan lies immaculate landscapes waiting to be discovered and photographed by the visitors that take the time to traverse them. Couple that with the changing seasons — think blazing crimson foliage in autumn and pristine blankets of white snow in winter — and the local train lines that take you through the sceneries, and you have yourself a Japan slow travel experience.
Train lines help to provide the comfort needed to appreciate the ever-changing scenery onboard its compartments, hence it's little wonder that it has garnered ardent fans. In fact, there are hobbyists in Japan called the
etsu-ota
or the trainspotters who stand in place with their cameras and photograph these quaint trains and even wave at the passengers inside. This article explores five local lines to explore on your next trip to Japan.
1. Tadami Line, Fukushima Prefecture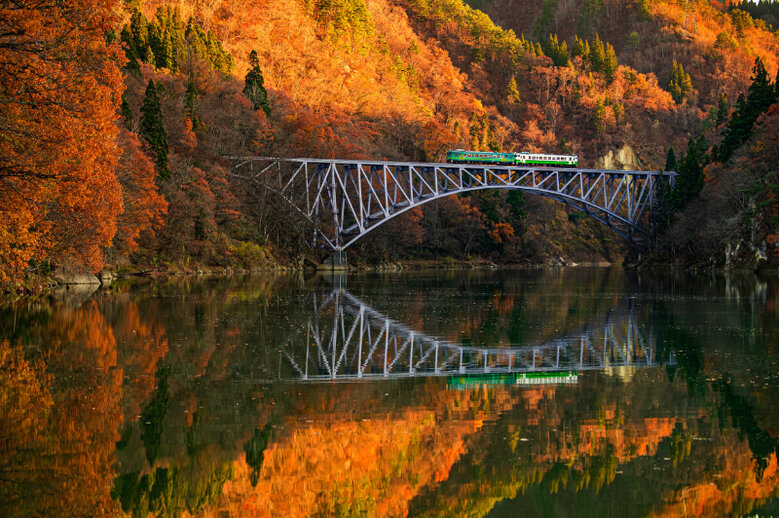 Traversing across the picturesque Aizu region in
Fukushima Prefecture
, the Tadami Line is one of the most scenic train rides in Japan. It connects the vibrant samurai city of Aizu-wakamatsu and the scenic countryside town of Oku-Aizu, and takes commuters through lush greenery and meandering rivers.
Stop by some of the stops along the station, such as Kaneyama where the town is said to be one of the few towns in Japan that naturally produce carbonated water, and consists of the Kaneyama Fureai Hiroba Viewpoint that looks out over Oshi Village.
2. Gono Line, Akita and Aomori Prefecture
The Gono Line stretches along the coastal area of both
Akita
and
Aomori Prefecture
, right beside the vast horizon overlooking the Sea of Japan. A gargantuan train line measuring close to 147 kilometres, the line connects Kawabe Station in Aomori Prefecture all the way down to Higashi-Noshiro Station in Akita Prefecture. There are three train lines that run along here, including the rapid train 'Resort Shirakami' available for those looking to enjoy the best of the Gono Line.
Some of the best scenery in Japan falls on the journey across the Gono Line. Catch the Shirakami Mountains of Akita Prefecture, a World Heritage site spanning 130,000 hectares. Juniko Station, a popular spot along the line, consists of a hike that leads to a mysterious but beautiful lake. On certain trains, there will even be a shamisen performance onboard 'Resort Shirakami', the Tsugaru-jamisen, and storytelling featuring local folk stories.