Jewel is — literally and figuratively — a striking gem newly mounted on Singapore's crown. A multi-faceted development with gardens, attractions, retail, dining, a hotel and facilities housed under a stunning glass and steel dome at Changi Airport's Terminal 1, it's a phoenix risen from the ashes of an open-air carpark. Someone remarked to me that Singaporeans are a rare breed who go to the airport while not flying. I say, there are good reasons behind it. After all, at which airport can you find a Canopy Bridge suspended 23 metres above ground? Where else can you take a walk on Singapore's largest hedge maze? Or take a mandatory selfie (of you open-mouthed drinking in the fountain water) at the Rain Vortex, the world's tallest indoor waterfall at 40 metres high and the darling of Jewel?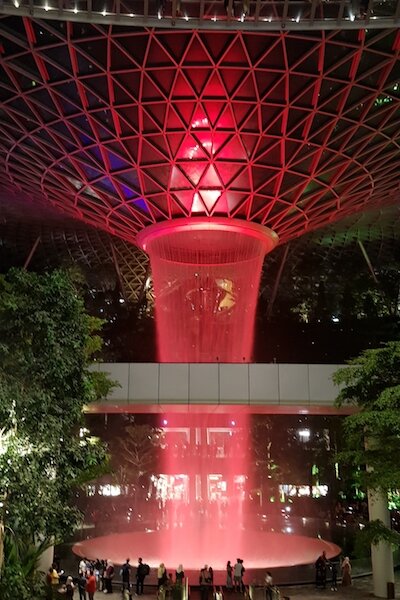 Rain Vortex is surrounded by a four-storey terraced forest
Best of all, where else can you be spoilt for dining choices with a bewildering selection of international cuisines and well-known local fares? At Jewel Changi, not to be missed is JW360° (Japan Way Three Sixty) that brings you a slice of Japan's lifestyle and culture in a 3-in-1 restaurant, cafe and retail concept. It is composed of Suju Masayuki, a premium Japanese restaurant; Nomono retail shop that sells artisan and seasonal products; and JW360° Cafe featuring Japanese confectionery and gelato.