Kabuke, a portmanteau of "kabuki" and "sake", is an edgy Japanese speakeasy gastrobar hidden up on the second level of a shophouse in Telok Ayer. We were invited by co-owner and sake sommelier Keiji Heng to experience the revamped menu by Head Chef Rio Neo, formerly of Fat Cow. The intimate 50-seater space anchored by a long bar counter is warmly lit, with a private dining area concealed by large vibrantly coloured hand-painted fans inspired by Kabuki (歌舞伎), a traditional Japanese form of theatre with roots tracing back to the Edo period.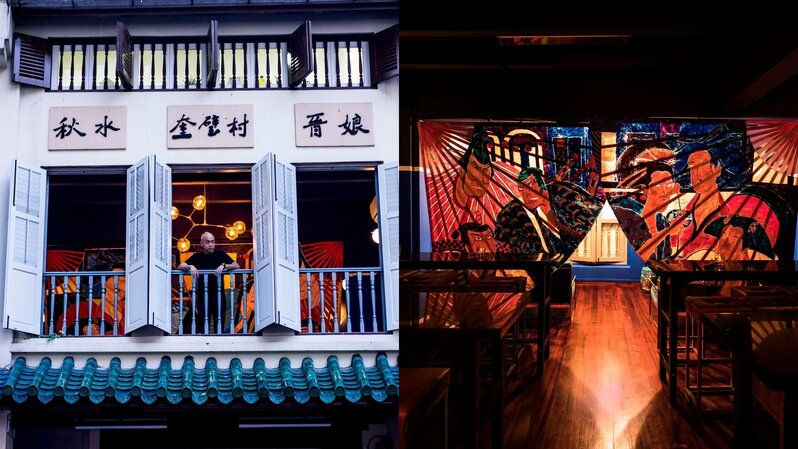 Left: Facade of Kabuke; Right: Large hand-painted fans concealing the private dining area
The new menu is best described as casual refined fusion, where classic Japanese ingredients are given a modern spin and painstakingly paired with sakes specially curated from artisan breweries from different prefectures across Japan. Heng shared that he proactively seeks special blends and rare finds from less-known breweries to add to an exclusive Sommelier's selection.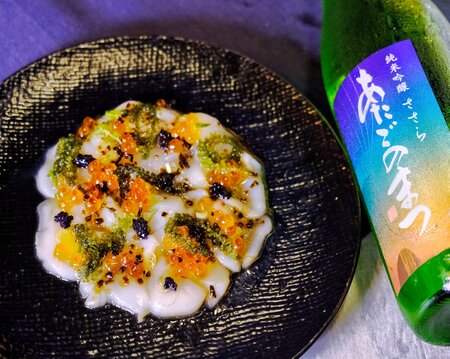 First to take the stage of the metaphorical grand theatre was the Wild-Caught Hokkaido Scallops, Sea Grapes, Marinated Salmon Roe paired with an ATAGO NO MATSU Junmai Ginjo Sa Sa Ra "愛宕の松 純米吟醸 ささら". The semi-dry and refreshing sake by Niizawa Sake Brewery of Miyagi Prefecture, established 1873 in Osaki City, cleansed the palate and heightened the sweetness of the fresh scallop sashimi simply dressed with truffle shoyu.