Looking at it from the exterior garden, you just know that the 21st Century Museum of Contemporary Art, near the Kenrokuen gardens in Kanazawa, is a modern art museum.

The building, with its clean lines and perfectly circular exterior, resembles an alien spaceship, or perhaps, a silicon wafer. There's a touch of technology to its design, a quality of abstraction, and abstraction, of course, is a quality that belongs firmly in the reality of modern art.
What to see at the Kanazawa 21st Century Museum of Contemporary Art
It is fitting then, that the first two structures in the garden outside the museum, have that same quality of the abstract. The first is a metallic mesh structure of stainless steel titled Wrapping, designed for children to play in. Children climb in and take to it effortlessly without a second thought, as they usually do for a great number of things.
The second is a coloured partition made up of Cyan, Magenta and Blue and titled Colour activity house. What exactly the "activity" is, implied by its title, remains unclear, and people move between each partition and then walk away looking vaguely befuddled.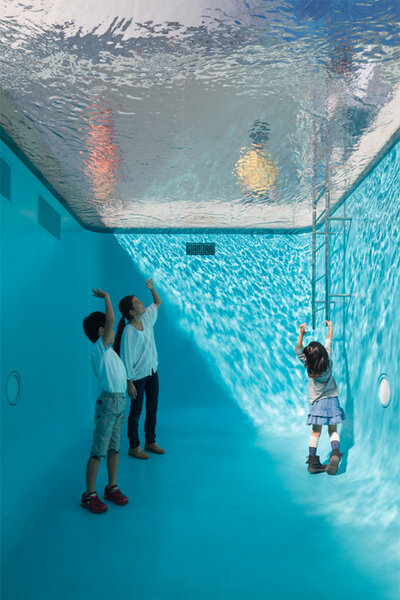 Entering the interior, you'll find that the museum isn't just full of abstract art. In the courtyard, visitors crowd around Leandro Elrich's work, aptly titled The Swimming Pool. There's a good reason why it receives the attention it does- a thin film of water over glass creates an illusion of being underwater- elsewhere there is an entrance where you can stand underneath and pretend to be submerged in the deep end of the pool.