We've officially entered March with a buzz of excitement. Why? Because cherry blossom season is here again! There are many wonderful places in Japan where one can enjoy the cherry blossoms and Kyushu, being Japan's third largest island, is one of the first to show signs of spring.

Located in the southwestern part of Japan, the Kyushu region (comprising seven prefectures namely, Fukuoka, Saga, Nagasaki, Kumamoto, Oita, Miyazaki and Kagoshima) is famous for its fertile land and incredible natural beauty across all seasons. However, springtime is an exceptional sight. Sakura trees start to bloom and colour the landscape in lovely shades of pink, slowly making their way across the rest of Japan like a beautiful pink wave.
This is known as the Sakura Zensen or the cherry blossom front.
Due to Japan's long geographical coastline, cherry blossoms bloom at different times during spring. The first flowers typically start to appear in the south, where temperatures are warmer, and gradually move northwards as the warm weather spreads across the country.
Sakura flowers bloom for a short time, with the blooming period lasting only about two weeks. To enjoy the fleeting beauty of these flowers in their full glory, many people keep close tabs on the
Japanese Meteorological Agency
, which releases a forecast of the Sakura Zensen with estimated dates of first bloom and full bloom during sakura season.
Before you book that ticket to Japan, let us show you three of the best cherry blossom spots and the hidden natural gems that Kyushu has to offer!
1. Omura Park in Nagasaki Prefecture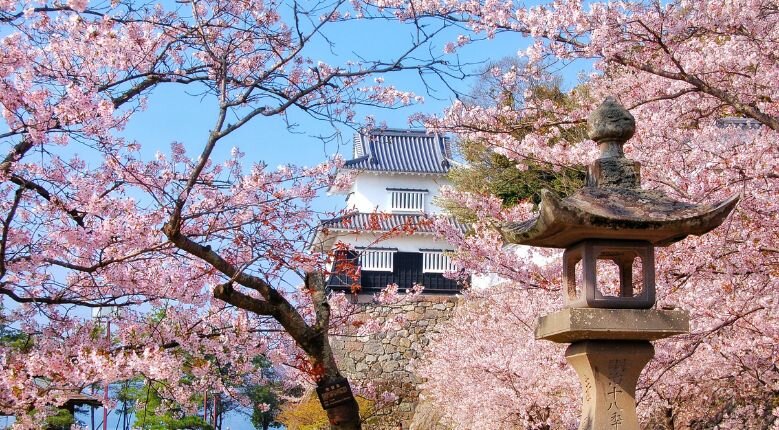 Built over the ruins of Kushima Castle that overlooks Omura Bay,
Omura Park
transforms into a dreamy pink wonderland during cherry blossom season. Around 2,000 sakura trees of various varieties go into bloom from late March to mid of April, earning it a well-deserved place in Japan's Top 100 Cherry Blossom Spots.
Here, visitors can admire the delicate pink of the iconic Somei Yoshino blooms as well as catch a glimpse of the rare Omura-zakura. The gorgeous Omura-zakura species is a nationally designated natural monument that blooms in two layers and has many petals. Unlike the standard five-petal sakura, Omura-zakura can have up to 60 to 200 petals per flower!
This scenic park will also be illuminated at night during the Omura Flower Festival, held from late March to mid-June, which attracts many visitors to come to enjoy the beautiful night scene.