Originally from Japan's "Jeans Street" — Kojima in Okayama Prefecture — Momotaro Jeans has now catapulted to international fame.
Everything started with a peach. Located along the Seto Inland Sea on the main island of Honshu, Okayama Prefecture receives an abundance of sunshine and is known for producing a wide variety of fruits, particularly peaches and grapes. But there's another famous "peach" from Okayama who is a local folklore hero, Momotaro, also known as "Peach Boy". According to legend, an elderly childless couple found Momotaro inside a giant peach and raised him as their son. When he grew up, Momotaro became a warrior who defended the land from pillaging ogres and demons. In recent years, however, another famous Momotaro named after the folklore hero has emerged from Okayama.
This jeans brand launched as a single store in the sleepy port town of Kojima in March 2006 but is now available in 23 countries across the world. Learn fun facts about Japan's famed denim brand from Momotaro Jeans PR Manager Katsuya Kimura. Ahead, he shares the brand's beginnings and the reason for their current success.
Kojima is the birthplace of denim in Japan
"Kojima used to be a small island but over centuries of land reclamation, the soil became unsuitable for harvesting rice. As such, the local farmers chose to cultivate cotton instead and over 400 years, developed and refined their cotton weaving techniques.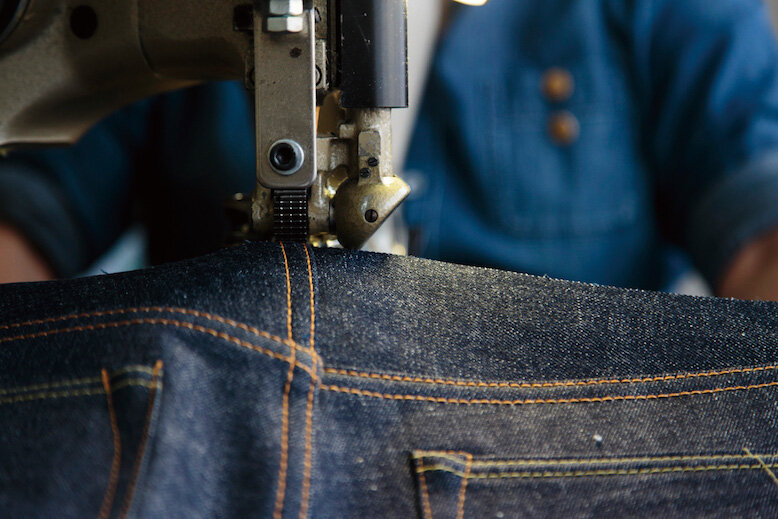 Denim was first introduced to Japan after World War II by American soldiers. In Kojima, textile factory owners recognised a growing desire among Japanese youth for American products and that's how the first Japanese denim company was born. The jeans-making process involves many different stages: weaving, cutting, sewing, dyeing, washing and cleaning. Eventually, the different specialists started to congregate in Kojima. From there, Kojima slowly became renowned for its jeans production."