With the impending approach of Typhoon Hagibis, touted to be one of the fiercest typhoons to hit Japan in the last 60 years, the outlook for our planned leisure programs in Osaka over the coming weekend was looking dim. Our spirits were lifted when our Japanese business partner treated us to a lovely dinner.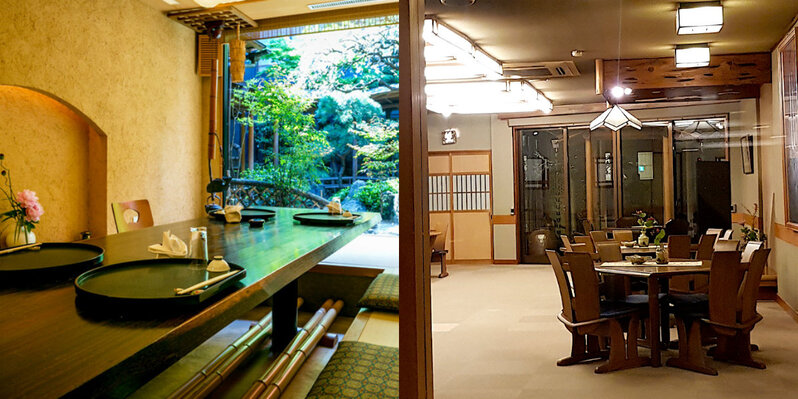 Left: O-Noya Private Room (o-noya.com); Right: Inside O-Noya
Established in 1951 in a quiet residential-looking section of Shimamachi, Chuo-ku of Osaka,
O-noya (大乃や)
occupies a large verdant courtyard housing a banquet hall that's elegantly decked out in traditional Japanese beige tones contrasted by timber pillars and wood trimmings, with private tatami rooms framed by shoji doors that open up to views of the zen sculptured grounds. The main restaurant specialises in Kaiseki cuisine that celebrates the changing of the seasons.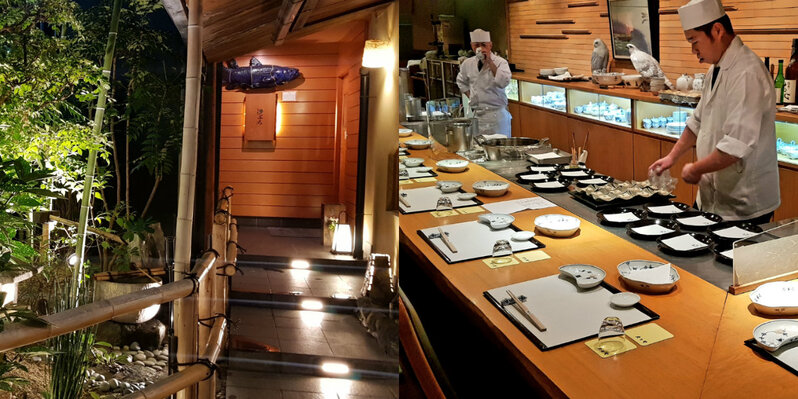 Our dinner was at a separate tempura restaurant adjacent to the banquet hall, linked by a wooden covered walkway that's flanked by pebbles and pockets of beautifully manicured gardens and water features, gently lit up by the soft glow cast from strategically placed lanterns.
The intimate tempura restaurant has only 13 seats planted along a long counter crafted from a single piece of wood; our host, a close relative of the restaurant owner, had booked the entire place for our group.