Tempura is my ultimate comfort food. It's familiar and comforting. That crunch of crispy light batter that crumbles apart to reveal succulent shrimps or fresh tasty vegetables brings back nostalgic memories of late nights in Tokyo. All my life, I've only known this one variant of tempura. Imagine my surprise when I visited the tropical island of Okinawa and discovered that Okinawan tempura is unlike any other that I've tried before.
Derived from the Latin word "tempora", this batter-fried concept was first introduced to Japan by the Portuguese traders and missionaries back in the mid-16th century. It has since been adopted by the Japanese and evolved to become the version we are familiar with today. Now, tempura is one of the staples of Japanese cuisine.
The traditional tempura we know and love
However, unbeknownst to many tempura lovers, Okinawa's tempura is slightly different and unique to this region. Being located in the southernmost part of Japan, Okinawan cuisine is influenced by Southeast Asia and China.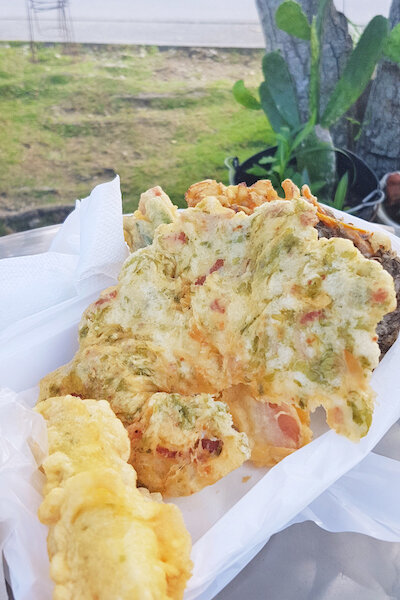 The hearty and fluffy Okinawan tempura: fish tempura, asa (sea lettuce) tempura and mozuku seaweed tempura


Don't let looks fool you, Okinawan tempura may not be the most presentable food in terms of aesthetics, but they are oh-so scrumptious. While typical tempura is deep-fried in thin, plain batter to ensure maximum crispiness, the Okinawan islanders make theirs with a rich and well-seasoned batter. They prefer their tempura to be big on taste! It makes sense why no dipping sauce is served with the Okinawan tempura — there's really no need to. By itself, it's already very tasty.
In the idyllic island of Okinawa, the local people eat tempura as a snack instead of as a main dish. There is also an impressive array of tempura choices: shrimps, squid, white fish, goya (Okinawan bitter gourd) and even mozuku (Okinawan seaweed). Okinawan tempura is typically sold in individual pieces for about JPY70/~USD0.63.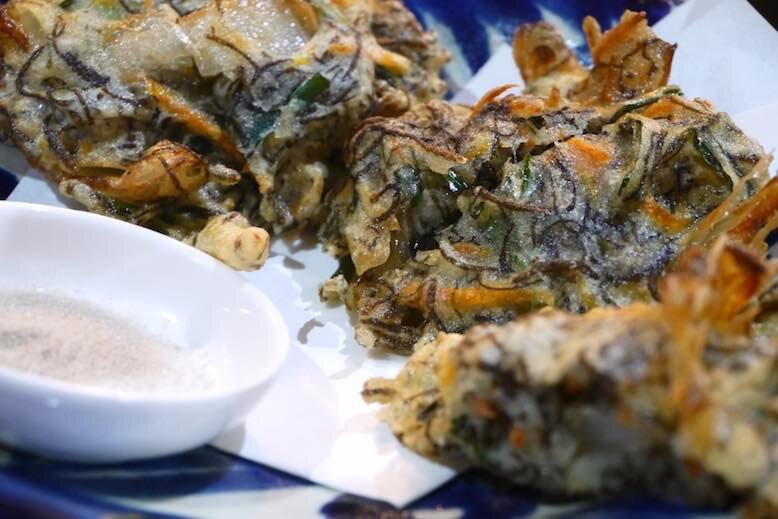 Mozuku
(Okinawan seaweed) tempura
Are you salivating already? Take a bite of this juicy delicacy at the best tempura places in Okinawa. Keep reading to know where and how to get there.
Travelling to Ojima: The heart of Okinawan tempura
To get a taste of the authentic Okinawan tempura, you have to go to the quiet little fishing island of Ojima in Nanjo city. From Naha Airport, take a short 40-minute drive southwards. Even the locals travel all the way to Ojima island for its famous tempura; that's how you know that the dish is really good and special.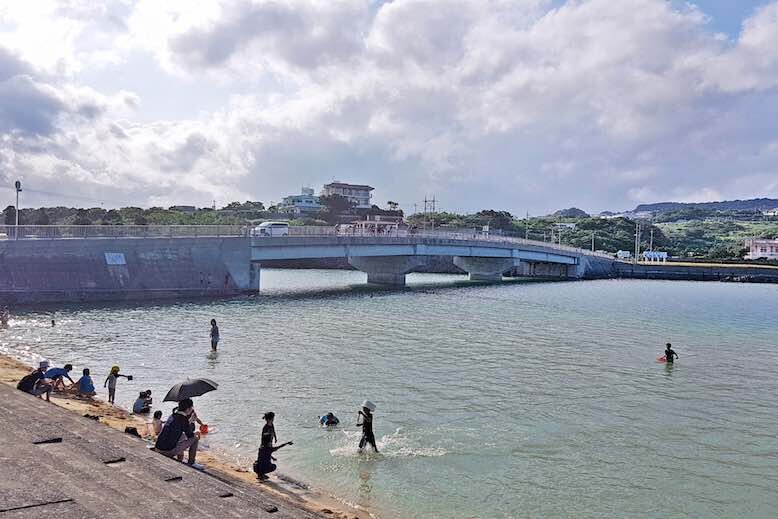 Ojima island
The beauty of this tiny island strikes you immediately. The sight of a lively bunch of local kids playing in the shallow, beautiful waters of the harbour sends serene vibes. There are several tempura shops here, each with their own specialities and recipes. Since this island is so small, it is a fantastic idea to walk around and sample different types of tempura from each shop.