Looking to upgrade your eyeglasses soon? Let your frames 'evolve' into something chic and fun with the OWNDAYS x Pokemon Collection. The collection's theme is 'Choose your Pokemon, Choose your fit.' It has nine functional designs to match your lifestyle and personal aesthetic, as inspired by your favourite Pokemon.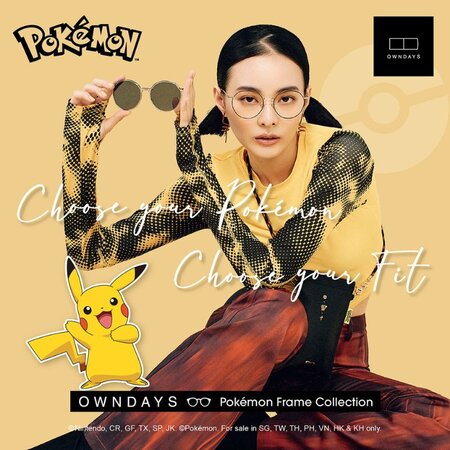 OWNDAYS x Pokemon frame collection
The collection comes with
two Pikachu models
, one of which has a two-in-one SNAP design that allows you to transform the eyewear from regular glasses to sunglasses. The
Jigglypuff and Squirtle frames
also sport this SNAP design, with the former coming with pink lenses similar to Jigglypuff's colour and the latter in blue in reference to Squirtle's character colour design.
Completing the nine-piece collection are Bulbasaur (a translucent dark green frame), Charmander (silver with orange accents), Evee (Boston-style beige and silver accents), Snorlax (oversized chunky transparent frame), and Mew (shiny pink metallic frames with a curvy silhouette).


OWNDAYS x Pokemon unique features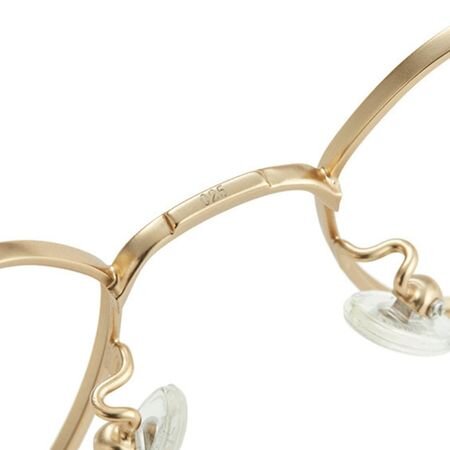 Aside from the frames bearing colour inspirations from the Pokemons they were named after, each design also bears the Pokemon's actual Pokedex numbers laser engraved on the frame's nose bridge. For example, the two Pikachu frames are labelled 025, while 'starter Pokemons' Bulbasaur, Squirtle, and Charmander are labelled 001, 007, and 004 respectively.
OWNDAYS x Pokemon price, inclusions, availability in Singapore
Each Pokemon frame is priced at
SGD198
and is inclusive of standard high index aspheric lenses (a.k.a. lenses covering normal to high prescriptions).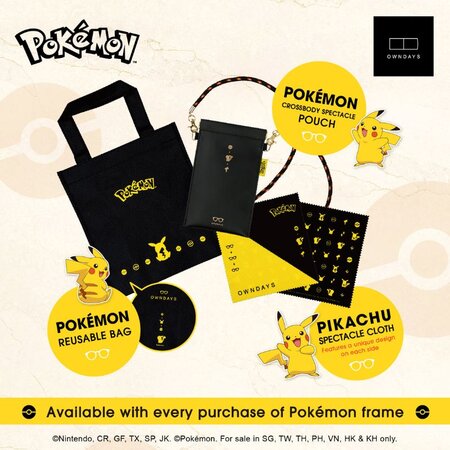 Customers will also receive an
additional Pokemon merchandise set upon purchase of a Pokemon frame
. This set includes a reusable eco-bag, a crossbody spectacle pouch, and a lens cleaning cloth bearing Pokemon designs on each side.
The collection is now available in all OWNDAYS stores islandwide, as well as the brand's official website, in limited quantities.
Speaking of Pokemon, here's another collab to watch out for from our sister site: Pokemon x Balmain.