The home is a place of utmost comfort. Nowhere else do we feel relaxed and free to be ourselves. It's a place where we recharge and reconnect with ourselves and our fam after a long day out. Still, living in the same place for years can lead us to feel tired of seeing the same four corners day by day. As such, it's important that we revamp our homes every now and then. Quick redecorating fixes always help, but if you're willing to put in a bit more effort, go big by repainting your space. Spice up your home and make it a better living space with hues you love. Make sure you choose the right colours with these tips from Lynn Lee, Senior Product Specialist of Nippon Paint.
Changing perspectives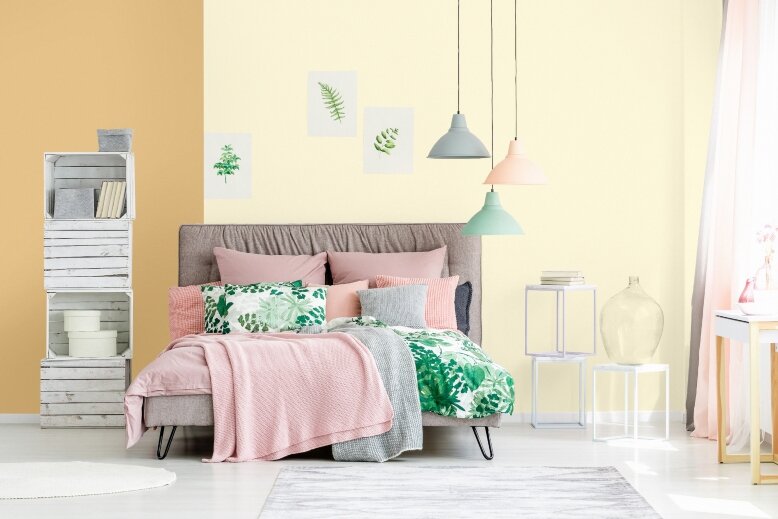 Before deciding on a paint colour for your room, Lynn says you should, first and foremost, "bear in mind that colour can greatly influence how you feel in a room." There are many ways to go about this depending on the vibe you want to achieve. According to her, bold colours can give you a burst of energy when you walk into a room. For a cool and breezy look, sticking to blues and greens will do you well, especially in spaces with plenty of natural lighting. "The rule of thumb," Lynn points out, "is to not go overboard with warm bright colours such as yellows and oranges that may over-stimulate one's senses, especially for bedroom settings. [They] may make one restless even at night."
More than affecting your mood and state of mind, how you play with tones also do well to change how you see a space. It's common knowledge that darker colours enclose the space while lighter ones make it look more spacious. That's not to say you should simply stick to pastel paint though. Lynn advised: "If you're into bold colours, you can work towards not overwhelming your space by balancing it with neutral palettes." How? Strategically plotting out which sides to paint with a particular shade to widen or narrow down your place.