Ah, cats! The Japanese people's fascination with these feline friends goes a long way back in history. Cats were even found painted onto ukiyo-e woodblock prints dating back to the Edo Period (1603-1868). Known as "Neko" in Japanese, one can find kawaii cat characters on merchandise, food products and even hotel rooms.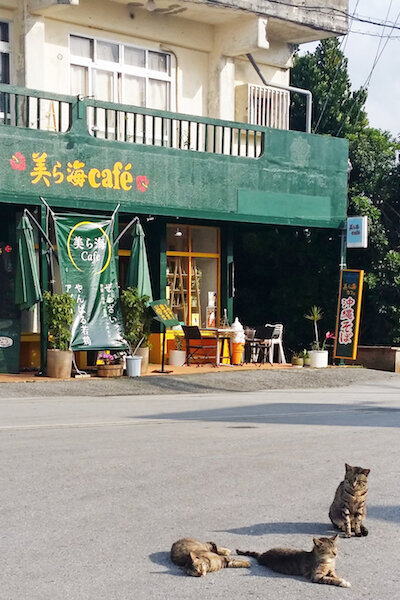 Take an unforgettable journey to all the must-visit places in Japan for all cat lovers with this meticulously-curated travel guide. Featuring cat-dominated islands, cat-centric activities and more, this list of the best things you can do will allow you to revel in your cat frenzy.
Visit a Nekojima (Cat Island)
The delight of seeing stray cats roam free on an island is indescribable. There are 11 cat islands in the country but the more popular ones are Aoshima, Tashirojima and Manabeshima. These three are definitely some of the places in Japan that cat lovers must add to their itineraries.
Aoshima of Ehime prefecture is perhaps the most famous cat island with more than 200 cats and just six human inhabitants. The story goes that these cats were originally introduced to help fishermen control the rat population and since then, the cats have made this island their home. Aoshima is perfect as a day-trip for cat lovers and photographers, but take note that this little island has no hotels, restaurants or vending machines. So, if you miss the last ferry departure (which only has two trips a day), you may end up sleeping on the streets with these adorable furballs. Not that it is a terrible idea though!
The several hundred cats of Tashirojima, a very small island part of Miyagi prefecture, have also gained popularity. Initially brought onto the island to chase away mice that destroy valuable silkworms during its silk industry heydays, the residents have since taken care of these cats. For an immersive experience, there is a manga-themed camping site with cute cabins shaped like cats.
For a more laid-back vibe, take a short ferry ride from the main island of Kasaoka to reach the quaint old fishing village of Manabeshima. With its cobbled stone walls and fishing boats lined picturesquely along the shore, it is no surprise that travellers come here from all over the world to witness its charm. Time seems to have stopped here and it's a common sight to see residents languid together happily with the island cats.
Worship Nekos at a Cat Shrine
When loving these fluffy felines isn't enough, why not worship them at these dedicated cat shrines instead?
Gotokuji Temple in Tokyo is a must-visit, even if you are not a cat fanatic. This Edo period Buddhist temple is believed to be the origin of the world-famous luck-inviting cat figurines, the maneki-neko. Away from the hustle of main Tokyo, this beautiful temple is a respite for tourists who want to experience a more "authentic" aspect of Japan. Buy a maneki-neko, get an omikuji (Japanese fortune-telling strips) and absorb all the luck emanating from the many cat figurines everywhere.