Take a journey with us as we explore underrated nature spots and marvellous sights in Akita prefecture in this series.
I have been exploring Akita for almost four years now, and I could say with confidence that it has one of the most beautiful landscapes of nature in Japan.
Akita TV has recently released its 50th-anniversary magazine focusing on the giant trees and spring water in Akita prefecture. The blessings we receive from these two icons in nature remind me of the dragons you often see in Japanese myths and folklore. I decided to pick up some of the places featured in the magazine and take you on a journey of getting to know the beautiful must-visit nature spots in the prefecture. First on my list is Taki no Kashira.
Taki no Kashira
Taki no Kashira (translated as the "the head of water spring" in English) is in Oga city in Akita prefecture. Oga city is located in a unique landform; it's between a mountainous area and the sea. This creates the signature mysterious atmosphere of the region. To this day, the famous myth of the mountain gods called Namahage, which is said to come down the mountains and warn kids not to have bad behaviour, is still very popular among locals.
Mt. Kanpuzan is the most prominent mountain in the region and the spring water of Taki no Kashira comes from there. Snowmelt and rain soak into the base of Mt. Kanpuzan, becoming purified and infused with minerals while flowing through inside the volcano. This whole process takes 20 years and at the end of the cycle, finally, people can drink water — a blessing from nature.
Taki no Kashira has been one of the most famous spring sites in Japan since time immemorial. An enormous output of water about 25,000 m3 a day is produced from this site. This makes up 70 per cent of Oga Penninsula's domestic water supply and it has been a nonstop water source for at least 200 years. It even makes a cameo in a scenery drawn by the famous historical traveller Masumi Sugae in his journal in 1810.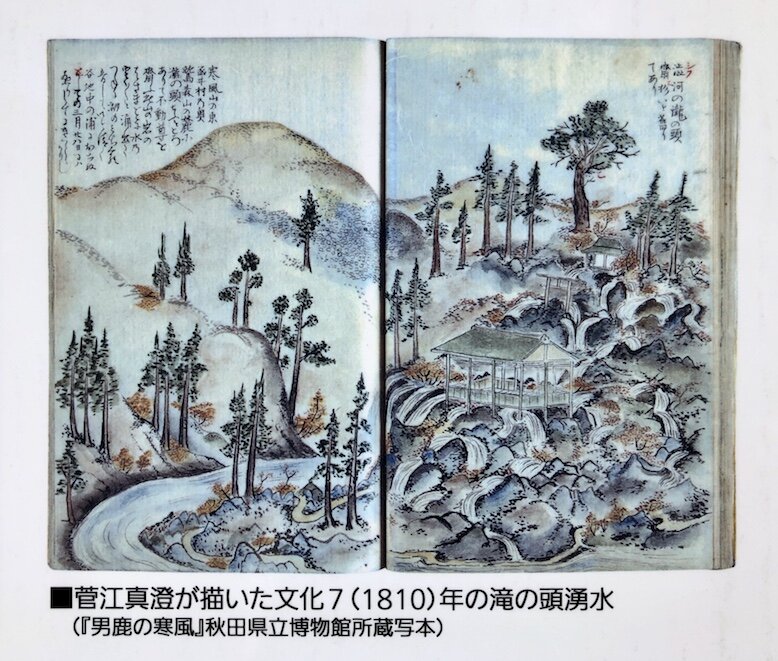 As you can see both in the picture and drawing, there is the guardian deity of the head of the waterfall, Imagi Shrine. There's an annual festival held every 28 May in honour of it. On the opposite side of the shrine, across the promenade, and on the right side of the pond, there is a worship hall for the local people to pray together with the priest and shrine maiden at the annual festival.
The water stored in a huge pond is very clear that you can see the bottom. By the side of the road near the water purification plant, there is a water collection site that anyone can use for free. When I visited, the water was refreshingly cold and had a pure and clear taste. I felt like I was detoxed when I drank it.