Tohoku's mountainous landscape and serene countryside have captivated many hikers and "hidden gem" hunters who want to avoid the hustle and bustle of city life. However, this created an image that this region is not lively enough, especially for those who are seeking adventure.
I lived in Tohoku for three years, so it has a very special place in my heart. I encourage my friends to visit this underrated region, but most of them prefer to visit places like Kanto or Kansai because they want something "fun." But I bet this list will entice them and others to put Tohoku in their itinerary.
Here are the top eight fun activities on my list.
Pet a fox in Zao Fox Village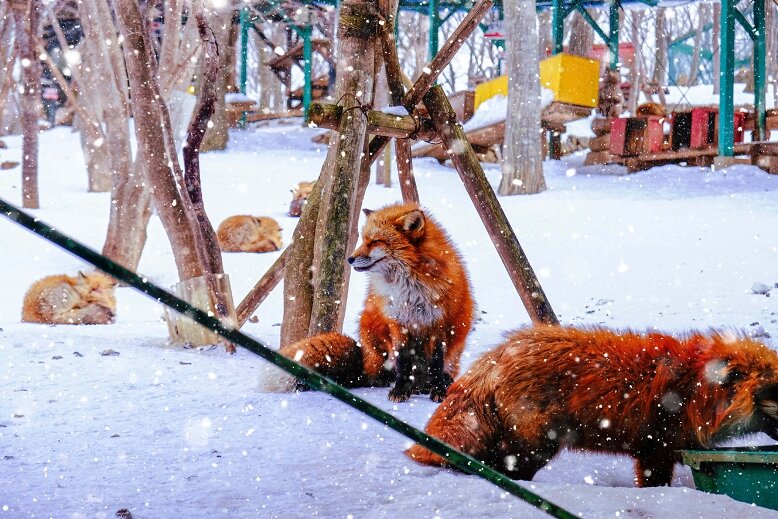 "What does the fox say?"
Well, foxes can't really speak, but you can hear them howl and even pet them at Zao Fox Village in Miyagi Prefecture.
This place takes care of around 100 foxes with different fur colours — red, white, and black. Visitors can see these cuddly creatures freely roaming around the preserve, but you can't just touch them. There's a designated time and place where visitors are allowed to cuddle and take photos with the foxes.
I grew up in the Philippines and there are no foxes there. We just see them on TV, so petting a fox was a surreal experience. The fur of the fox that I petted was white and fluffy. The foxes tend to wiggle a little bit, so you need to hold them properly and gently or else they might jump. But don't worry, the facilitators will guide you.
Experience how locals drink at Sendai
Once the sun is down, the dark alleyways that are usually dim and gloomy during the daytime suddenly become bright and lively, mostly because of Japanese bars also known as "Izakaya."
These bars mostly have Japanese signages or sometimes a note saying "Japanese Only," which is quite intimidating for foreign travellers.
The good news is you can book a "Bar Hopping Tour" with Tohoku Local Secret Tours in Sendai, Miyagi and drink like a local! On this tour, you'll have an English-speaking guide that will introduce you to local Izakayas and tell you stories about Miyagi while drinking.
This is one of the most entertaining tours I've had. The tour guide was very friendly and knowledgeable about Miyagi. It's like I was drinking with a long-lost acquaintance. I wish I discovered it earlier, so I could have recommended it to my friends. When my friends and I go out, we usually just go to the same bar because it feels safer and easier. At least now, I know there's a convenient way to go bar-hopping.