Tohoku is probably not in many people's radars when thinking of winter events in Japan, some might not even know where it is. I was one of those people. I only learnt about it when I was stationed there by a company I used to work for.
But this northeastern region is actually one of the snowiest places in Japan and is home to many must-see winter events. For those who want to see snow for the first time or have a remarkable winter experience, Tohoku is the place to be. Here are five unique experiences to indulge in while there.


Snow Monsters in Mt. Zao
Fear not because there aren't any monsters up in
Mt. Zao
, just trees covered in snow that resemble a band of massive and deformed snowmen.
Snow Monsters are born from the high altitude of Mt. Zao and chilly Siberian winds that freeze water droplets and stick onto Maries Fir trees, which can withstand harsh cold weather.
This natural phenomenon occurs from late December to mid-March. However, the best period to see Snow Monsters is in February because they are in their largest stage.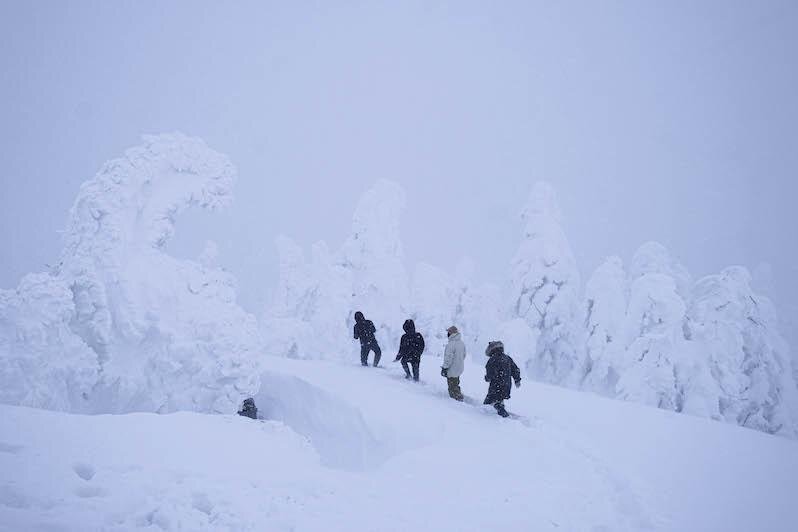 Want to see them? There are two ways to get there. The first is by riding a snowmobile at Sumikawa Snow Park in Miyagi Prefecture. It takes about two hours to go and come back from the park to the Snow Monster field and it costs JPY5,300 for adults and JPY4,400 for kids. Visitors are given 15 minutes to see these unusual creatures up close and take some photos.
Make sure to check the weather when you come here. During my visit, it was snowing a lot and the wind was so strong, so I didn't really notice the snow monsters — but they're still there. I saw them was when I edited the pictures I took.


Winter Sakura Illumination in Hirosaki Castle
Aomori Prefecture's Hirosaki Castle is one of Japan's most scenic cherry blossom destinations because it's home to 2,600 sakura trees and the west side of this castle turns pink from the fallen petals of the sakura.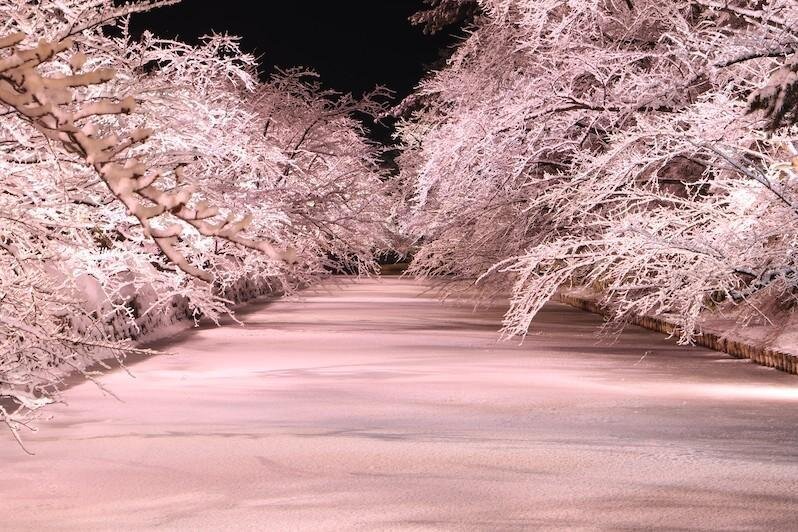 Sadly, cherry blossoms don't bloom in Aomori around winter. However, you can see a similar sight through the Winter Sakura Illumination in Hirosaki Castle. Instead of the pink blossoms, the snow that covers the branches and the moat is illuminated by pink LED lights, which mimic the Hirosaki Castle's iconic Sakura spot!
During the time I went here, it was snowing a lot, so my companions and I didn't stay long. It was freezing and the pathway to the castle was quite challenging to walk on. Make sure you wear boots with spikes and bring an umbrella so you don't slip and stay protected against the snow.
You can see this site from December to February and it's free.