The Japanese love a good celebration and there are countless festivals (locally called Matsuri) held across the country. There are religious festivals, coming-of-age festivals, celebrations to commemorate historical events, festivals to celebrate the changing of seasons and plenty more. Every festival has its own ritual and characteristics. Some are peaceful, many are high-spirited and others are just downright bizarre. Let us take you into the realm of weird but amazing festivals in Japan.
Kanamara Matsuri (Phallic worship for fertility and protection)
Yup, you read right. Originally meant as a sacred event held as a prayer for fertility, safe birth, smooth marital relationships and business prosperity, the Kanamara Matsuri has now evolved to become a rather rowdy but joyous affair. Taking place every year in April at the Kanayama Shrine in Kawasaki, this sexual-themed festival attracts many locals and gawking tourists.
In recent years, this festival has also attracted the attention and support of the LGBTQ community. We have to go back in history to understand why. Since the Edo period (1603-1868), the Kanayama Shrine has opened its doors to anyone who came to ask for blessings, from couples who wished for fertility to sex workers who prayed for health protection. They want a festival that can be enjoyed by everyone without facing discrimination and this is why the Kanamara Matsuri is attended by people from all walks of life today.
The main highlight of the Kanamara Matsuri is the parade of three mikoshi (portable shrines) that carries a variety of huge sacred phalluses. The procession starts around noon, but crowds gather early in the morning to get a good spot. After that, they continue in the revelry by taking plenty of fun pictures, gorging on penis-shaped Japanese street food and buying phallic souvenirs.
Festival Date: Usually the first Sunday in April.
Yasurai Matsuri (Scary demons to ward off illnesses)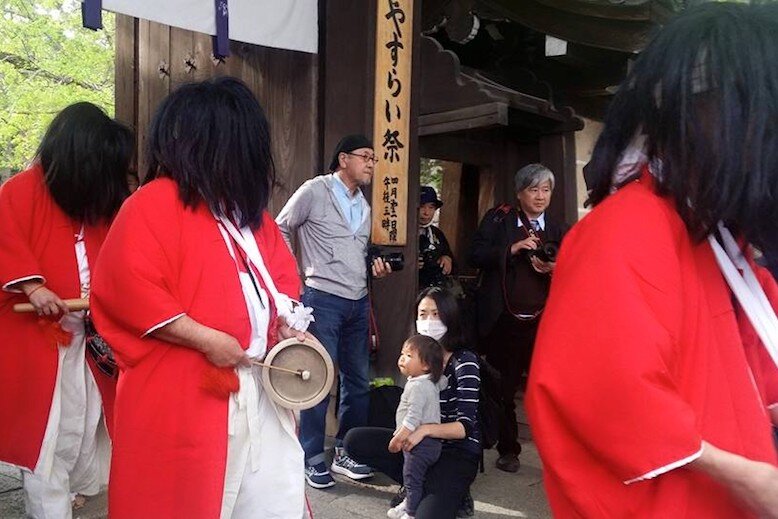 The Yasurai Matsuri held at Imamiya Shrine is no doubt one of the strangest festivals in Kyoto. With its origins dating back to a plague during the Heian period, this traditional festival is dedicated to good health and the prevention of illness.
The locals believe that the deity of good health wanders away during the spring season and this causes diseases to become rampant. They need to get the deity back. So, a procession of scary-looking demons walks around the neighbourhood with the intention of luring the distracted deity back to the shrine using big red umbrellas. These red umbrellas are also believed to bring good health, so it is a common sight to see people following the procession closely and waiting for a chance to get under the canopy. This bizarre parade is also accompanied by loud drums and gongs, together with the local people yelling "Yasuraibana-ya" loudly to chase away evil spirits, bad luck and illnesses.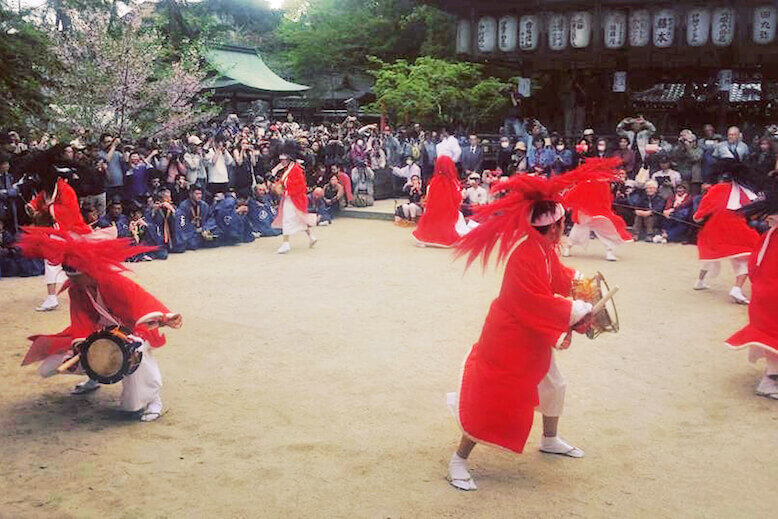 Back at the shrine after the processions, wildly-dancing demons with messy hair and red robes take centre stage. These demons jump and twirl to the hypnotic Shinto music of flutes and drums, all with the hopes of praying for good health. Attended mostly by locals, the Yasurai Matsuri is definitely a unique and eye-opening experience.
Festival Date: In the middle of April