While Tottori is the least populated prefecture of Japan, it more than makes up with an abundance of crabs. In fact, Tottori catches the most crabs in all of Japan, three times more than that of Hokkaido. It's no coincidence that the region's north end borders the Sea of Japan. The pristine waters and unequalled depth provide the perfect living conditions for crabs. The unrivalled Matsuba crab, which is the adult male snow crab caught in Tottori's winter season, is famous for its succulent meat, bursting with natural sweetness. The peak season of Matsuba crab lasts only from early November to early March, which makes the already highly prized crab even more precious.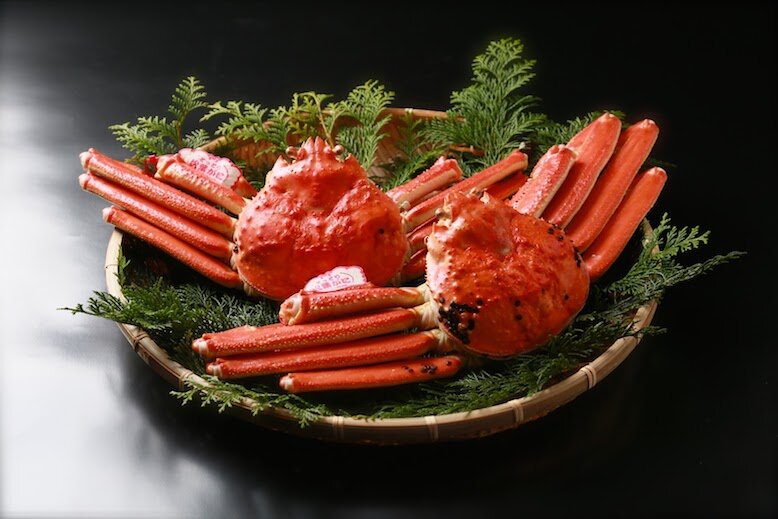 Because of its freshness, sashimi is the best way to taste Matsuba crab. Another popular way is to have it in hotpot or nabe, as it's commonly known in Japan.
Where to eat Matsuba Crab in Japan
To enjoy the full spectrum of the Matsuba crab's wonders, splurge on the special live Matsuba crab banquet at Kaike Kikunoya or Michelin two-star awarded Kaniyoshi. The luxurious set includes an unforgettable selection of Matsuba crab sashimi, crab hotpot and also features the delectable crab — both grilled and boiled. One of the best and most unusual parts of the set is the grilled crab miso, which is actually the innards of the crab you find inside the shell.
Matsuba crab is so delicious because of Tottori's plankton-rich seafloor, which produces crabmeat chockful with flavour. With few rocky places in their habitat, Matsuba crabs have distinct slender legs, unlike Sri Lankan king crabs, for example.