Big, glitzy shopping malls with bright lights and advertisements vying for attention are synonymous with the major shopping districts throughout Japan. Established departmental stores, famous international brands and trendy Japanese brands lined side by side, all make for a very exciting shopping experience.
For intrepid travellers who prefer to get off the tourist grid, another charming shopping experience awaits in local neighbourhoods. Here, you will find the local's version of a shopping district called Shotengai.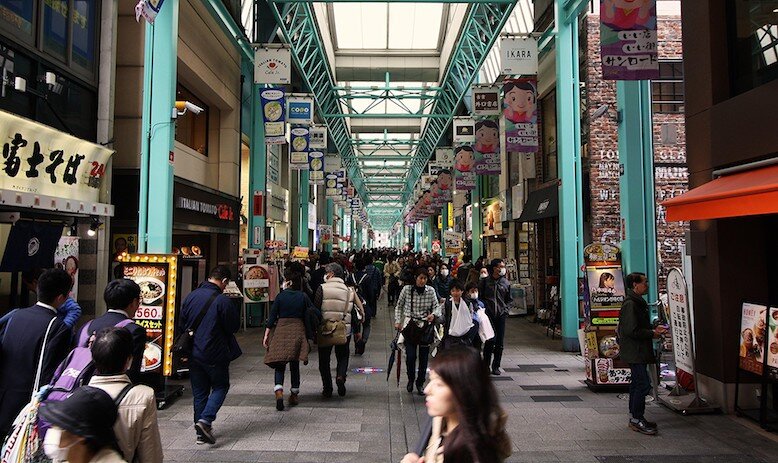 These traditional shopping arcades do not have the glamour of downtown shopping malls but they are the heartbeat of the locals. Mainly home to small independent businesses, some family-run for generations, these seemingly plain shopping streets allow a peek into the real life of the locals. From stalls selling fresh produce to everyday necessities to the ubiquitous JPY100 thrift shops and cheap food vendors, the Shotengai is a unique aspect of Japan that shows the more relaxed pace of life in the heartlands.
Here are a few Shotengai that are worth exploring the next time you visit Japan!
Jujo Ginza, Tokyo
Just a 10-minute train ride from buzzing Shinjuku is Jujo, a working-class district that is brimming with local life. And, at the heart of this suburban neighbourhood is Jujo Ginza, a fully covered shopping arcade with a history going back to the 1930s.
After the Great Kanto Earthquake in 1923, people moved here and opened small businesses to cater to the local community. It has since expanded to 159 standalone shops that occupy approximately 380 metres of connected shopping streets.
Step in and you will see various shops lining both sides of the walkway. Compared to the frenzy of Tokyo, the atmosphere here is friendly and congenial. Locals amble around leisurely, buying vegetables and fish from local grocers, while students queue up for mouthwatering Korokke (Japanese croquettes).
There is probably not much to buy in terms of fashion or souvenirs, as Jujo Ginza caters to the needs of the local residents. However, cheap and good eats are aplenty. Grilled skewers, ramen, takeaway bento boxes and bubble tea are just some food choices vying for your attention.
What stands out amidst the grocery stores, tantalising eateries, hair salons, and thrift shops are the kind and genuine smiles of the people. The warmth of human connection is one of the best things to enjoy in this old-school shopping street.